Please enable JavaScript to view this site.
Spool-a-matic is an additional chargeable feature used by Cobwebb to generate PDF. In order to use this module your Cobwebb licence will need to include this module - see the PDF Interface entry in PPD Security for details.
Spool-a-matic may be installed via the Server Configuration Wizard as this will automatically work out which version of the application is required for your OS version and then call the INSSPL command; or you can call the command INSSPL [from v6.2] from a command line and manually enter the version you wish to install. This process will install / upgrade a library called SPLAMATIC.
•Add the library CPPD to your library list and then type INSSPL on a command line and press F4.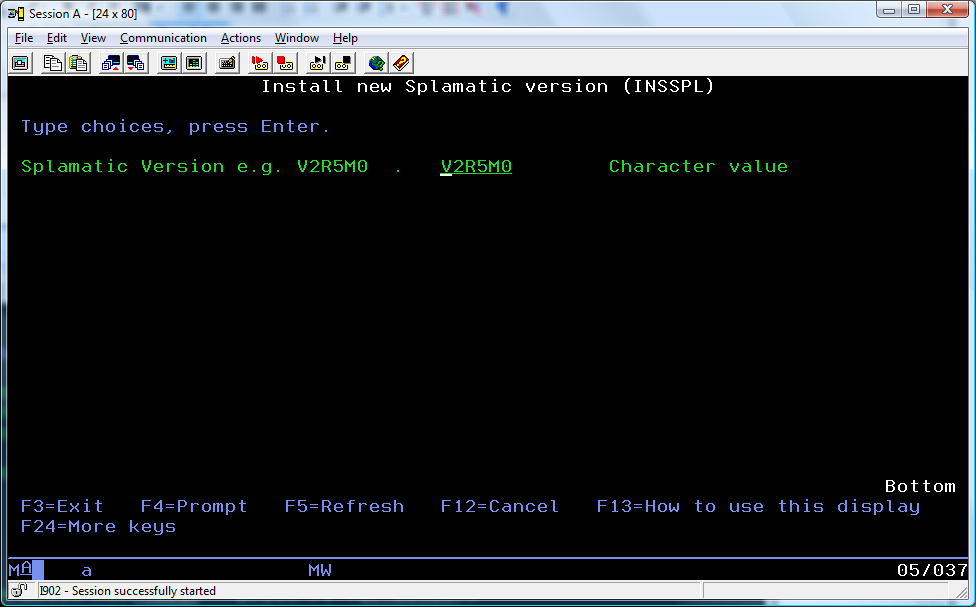 Splamatic Version
Here you need to enter the correct Spool-a-matic version number for your OS version. Note: If this command has been called from the Server Configuration Wizard then the correct version will have already been selected.
In order to determine which version to install you will find a list of Save Files in the CPPD library relating to Spool-a-matic e.g.
| | | |
| --- | --- | --- |
| Save File Name | Description | Type |
| SAMSAVF16 | PDF Library V1R6M0 for IBM i V4R5M0 | Full |
| SAMSAVF17 | PDF Library V1R7M0 for IBM i V4R5M0 | Full |
| SAMSAVF18 | PDF Library V1R8M0 for IBM i V5R1M0 | Full |
| SAMSAVF21 | PDF Library V2R1M0 for IBM i V5R3M0 | Full |
| SAMSAVF23 | PDF Library V2R3M0 for IBM i V5R4M0 | Full |
| SAMSAVF24 | PDF Library V2R4M0 for IBM i V6R1M0 | Full |
| SAMSAVF25 | PDF Library V2R5M0 for IBM i V6R1M0 & later | Full |
| SAMSAVF27 | PDF Library V2R7M0 for IBM i V7R1M0 & later | Full |
| SAMSAVF28 | PDF Library V2R8M0 for IBM i V7R2M0 & later | Full |
| SAM16PTF | PTFs for PDF Library V1R6M0 | PTF |
| SAM23PTF | PTFs for PDF Library V2R3M0 | PTF |
| SAM24PTF | PTFs for PDF Library V2R4M0 | PTF |
| SAM25PTF | PTFs for PDF Library V2R5M0 | PTF |
| SAM27PTF | PTFs for PDF Library V2R7M0 | PTF |
| SAM28PTF | PTFs for PDF Library V2R8M0 | PTF |
Check which version [highlighted in red] you need to install from the list of "Full" installations where the file name is in the format SAMSAVFnn. If there is also a PTF [SAMnnPTF] for the version you select this will be automatically installed at the same time.
•Once you have entered the version you wish to install press Enter.
When Spool-a-matic has finished installing the following command will be run to set the Spool-a-matic defaults to the best values for producing PDF output:
CHGSAMDFT REFPRTDEV(*AFPYES) REFOFFSET(0 0) PDFFNTIMB(*TRUETYPE) PDFIMGPBL(*PREBLEND32)
Description

Keyword / Recommended Value

Why?

Reference printer device &

Refprtdev offset correction

REFPRTDEV(*AFPYES)

REFOFFSET(0 0)

These two keywords prevent text near the edge of the page being 'pushed' into the page and overwriting other text. The Default for REFPRTDEV appears to be *HPTASCII which can cause problems.

PDF font imbedding

PDFFNTIMB(*TRUETYPE)

This allows embedded True Type fonts in the PDF.

PDF image process blending

PDFIMGPBL(*PREBLEND32)

This blends the 4 colour planes of a 32bit CMYK image into one plane. This decreases the size of the PDF and prevents each colour plane opening one after the other when the PDF is opened.
Then you will be presented with a screen asking you to enter your licence code e.g.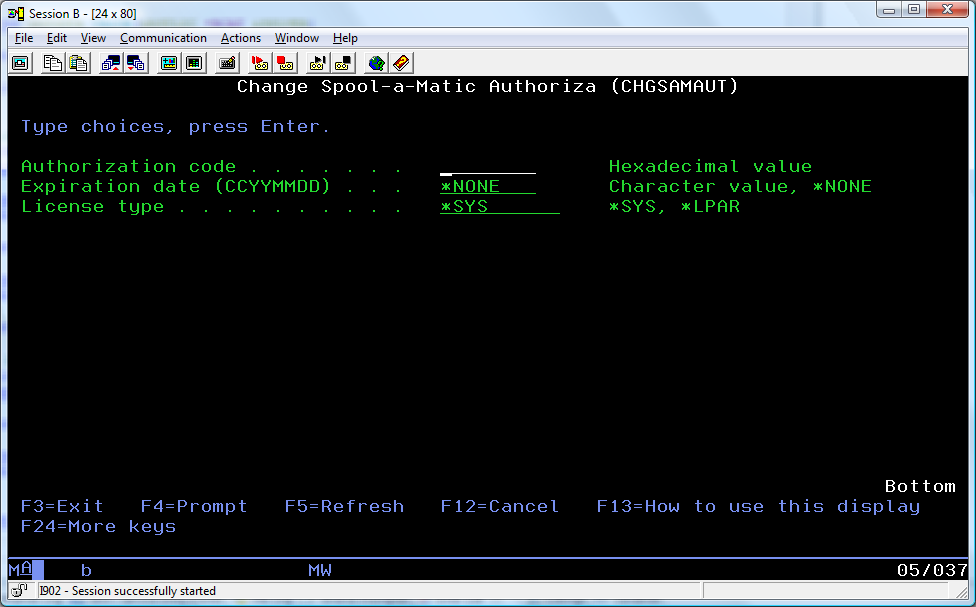 Authorisation code
Enter the authorisation code supplied by Cobwebb.
Expiration date
Enter the expiration date that you have been given. This must be in the format CCYYMMDD.
License type
Leave the default of *SYS.
•Press Enter
Congratulations - you should have now successfully installed Spool-a-matic.