Please enable JavaScript to view this site.
From the General tab you may change the look of your Cobwebb Designer.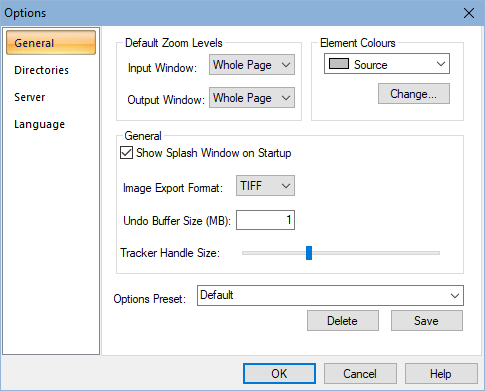 Default Zoom Levels
These entries control the default zoom for both your Input and Output windows (panes) when you open the Cobwebb Designer. These may be altered later by using the View > Zoom menu options or holding down the Ctrl key and using the Page Up and Page Down buttons on your keyboard.
Element Colours
You may change the colours of the elements by clicking on the arrow to the right of the Source element e.g.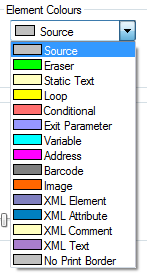 Select the element colour that you wish to change and then click on the Change button. This will display the Color pallet from which you may select your colour. Click OK to change or Cancel to return without changing.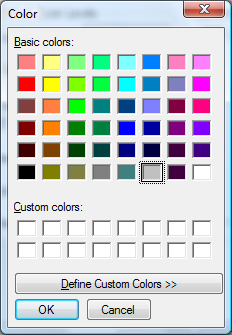 General
Show splash window on Startup
This allows you to remove the designer splash when starting Cobwebb Designer.
Image Export Format
The Image export format should be left as the default of TIF. The alternatives of MMR and JPEG can be used. The MMR format created by the printer driver may be used if your IBM i printer driver does not accept TIF. The JPEG format has been added to support colour. If only some of your images are colour then leave the default of TIFF and change the properties of the individual colour images when you add them to a PPD file. N.B. If you wish to send PDF email attachments using Cobwebb Email then you must use the TIF or JPEG format, as the MMR format is not supported.
Undo Buffer Size
This controls the size, in megabytes, of the buffer for holding edits in order to be able to "undo" a previous edit. This should never need to be altered.
Tracker Handle Size
This determines the size of the handles on the elements in the Input and Output panes e.g.
| | |
| --- | --- |
| | |
| Smaller Tracker Handle size | Larger Tracker Handle size |
Options Preset
This is where you can save all of the entries under the View > Options in the Cobwebb Designer. This can be useful if you have say a TEST and LIVE server and you wish to be able to quickly switch between them to upload a PPD. To save a new entry simply enter a new name in the Options Preset box and click Save. You will then see this new entry in the drop down selection. Note: If you save changes to the Default entry then these cannot be reverted. Requires Cobwebb Designer Version 8 ( Build 11) or above.